include("amazon_ads.php"); function matchprefix($haystack, $needle) { return 0 == strncasecmp($haystack, $needle, strlen($needle)); } $url = $_SERVER['PHP_SELF']; $path = explode("/", $url); $m = "URL: " . $url; $elements = sizeof($path); if($elements < 1) { $page = ""; } else { $page = $path[$elements-1]; } if($elements < 3) { $section = ""; } else { $section = $path[$elements-2]; } if("" == $section) { if(matchprefix($page,"newscp.php") || matchprefix($page,"server.php") || matchprefix($page,"server2.php") || matchprefix($page,"server3.php") || matchprefix($page,"server4.php") || matchprefix($page,"dmca.php") || matchprefix($page,"abuse.php")) { $section = "usenet"; } elseif(matchprefix($page,"links.php")) { $section = "other"; } elseif(matchprefix($page,"faq.php") || matchprefix($page,"contact.php")) { $section = "support"; } else { $section = "newsreader"; } } /* $m .= "\nElements: " . $elements; $m .= "\n0: " . $path[0]; $m .= "\n1: " . $path[1]; $m .= "\n2: " . $path[2]; $m .= "\n3: " . $path[3]; $m .= "\n4: " . $path[4]; $m .= "\n"; */ $subject = "navbar $section | $page"; ?>
if("newsreader" == $section){ ?>
} ?>
if("usenet" == $section){ ?>
} ?>
if("delete4sure" == $section){ ?>
} ?>
//if("support" == $section){ ?>
//} ?>
if("other" == $section){ ?>
} ?>
Sections: Set Up | Download Master List | Select Newsgroups | Search

Set Up (Watch a Flash demonstration)


When you run Binary Boy for the first time, you'll need to provide information on how to connect to the internet.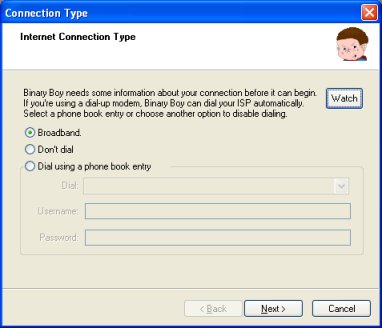 If you have cable modem, DSL or connect through a LAN, click I'm using a permanent internet connection. For a dial-up connection, click Dial using a phone book entry and choose your ISP from the list. Then enter the username and password provided by your internet service provider. You can change this option later from the Dialer tab in the settings.
Click Next.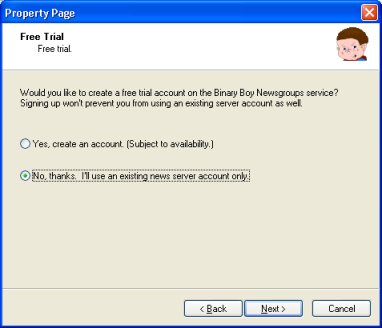 If you prefer to use an existing server account, click No. If you'd like to create a free trial account on the Binary Boy Newsgroups server, click Yes. In either case, you can change or add servers later on the Server tab in the Settings.
Click Next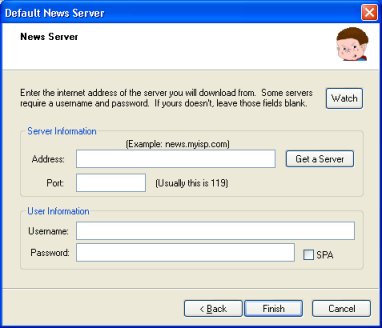 Next enter the address of the server you want to download from as well as any required logon information. If you don't have a news server, click the Get a Server button to learn how to subscribe. If your news server doesn't require a username and password, leave those fields blank. Leave the SPA box blank unless you're using MSN's news server. You can change these settings later from the Server tab in the settings.

Click Finish and you can begin a search with one of the pre-selected newsgroup lists or create your own list.





Sections: Set Up | Download Master List | Select Newsgroups | Search